One of the first quilts I designed and it's still my favourite.
QUILT KIT: Available to order, in your choice of colours.
1m background (cream check). ½m feathers on centre and corner units (green small print). 60cm centre and 2 borders (large green floral). Fat 1/8m for small triangles around centre. 60cm inner wide border around feathered star block, 2nd outer border and folded insert between binding and outer border (pink self coloured print). 1/2m for bottom of saw-tooth flower corner blocks, dark frame when star set on point and binding (green self coloured print on my piece). 1/2m & fat 1/8m large outer triangles, inner star points & saw-tooth flower "teeth' (small pink print). Fat 1/8m (10" x 21") corner unit large triangles and large square in saw-tooth corners (large pink print). 1/2m outer border (green print). 1.1m backing fabric (115cm /45"wide). Wadding 115cm (45") square. Also useful: 6½" BIAS SQUARE RULER - see shopping carts.
WALL HANGING OR SETTEE THROW ***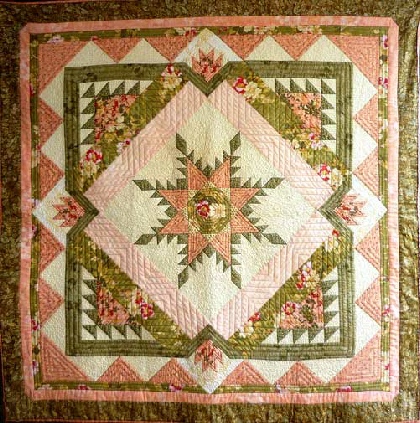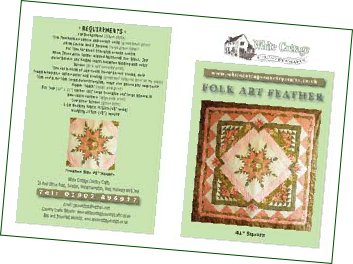 Note: Please use the PayPal option at the checkout.
The alternative direct card payment option
is currently not available.