Fabulous quilt to make. You'll never get bored! 50 different 6" blocks alternating with 49 Courthouse Steps blocks that form the chain going through the quilt. Can be made as in picture or using a constant light background fabric. Use as many fabrics as possible. Keep adding more as the project progresses. If kit is purchased add some of your own fabrics too.
QUILT KIT: Includes - Lights: 14 Fat ¼'s. Med/Dark: 24 Fat 1/8ths. Narrow Border: Long 1/4m. 4 Patches in Centre of Courthouse Steps Blocks: Long 1/4m. Chain: 1m. Outer Border: 1m. Binding: 60cm.
Backing: 3.7m of 115cm wide fabric. Wadding: 2m x 2 ¼ m. Lights: 14 Fat ¼'s. Med/Dark: 24 Fat 1/8ths. Gold: Fat 1/4m Blocks.
Long 1/4m Narrow Border. Red: Long 1/4m 4-Patches. Blue: 1m Chain. 1 ¼ m brown borders and 60cm binding included. PATTERN - Deduct £5 off pattern if purchased with kit.
K25 White Cottage
Civil War Quilt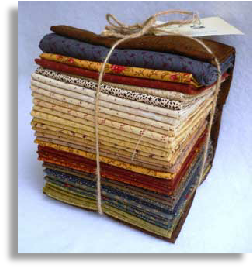 Note: Please use the PayPal option at the checkout.
The alternative direct card payment option
is currently not available.