The Charm Pack project is a fabulous little quilt that relies on there being contrast between the Star Point Fabric and the background to the stars. As the Star points are very small the strong contrast is needed to show them up. The nine- patch blocks are just made up from the remaining squares. The smaller quilt is a neat size the larger Charm Pack quilt uses all the Charm Pack down to the last 1½" square.
The design is also suitable to be made from a Layrcake. Instructions for all sizes in pattern
Also required:- Charm Pack (both sizes), Fat 1/8th m ( 10" x 21") Outer Triangles, Thin 1/8th m ( 5" x 42") First Border, Thin 1/4m Outer Border, Thin 1/4m Binding, 60cm Backing.
Layercake: 3 Fat 1/4m for Outer Triangles, 35cm First Border, 70cm Outer Border, 1/2m Binding, 3.1m Backing Fabric.
P4 Charm Pack or Layercake
Nine Patch Floating Stars
Sizes 19" x 27" or
19" x 36" (CP)
or 57" x 68" (L)
TABLE RUNNER (Charm Pack)**
SINGLE BED QUILT (Layercake)*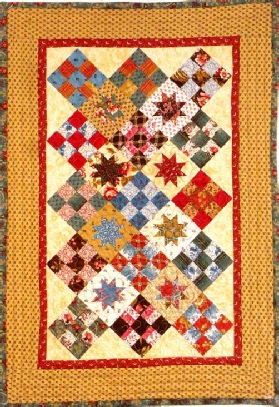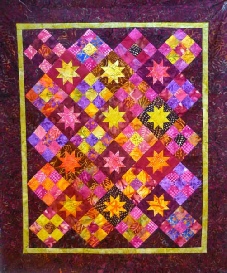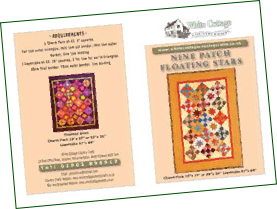 Note: Please use the PayPal option at the checkout.
The alternative direct card payment option
is currently not available.