Versatile pattern as depending on the style of the fabrics in the Jellyroll you can do pretty hearts or rustic stars or a mix of both on the pieced backgrounds. The whole top of the quilt including the binding is made from the Jellyroll.
You do require a Jellyroll with 15 light fabrics in it to make the 9 pieced backgrounds to the appliqué. If your chosen Jellyroll hasn't got 15 light strips you can always add extra light 2½" strips from your stash to make up the number.
Also Requires:
You may get the backing fabric out of one width of fabric but it will be close. In this situation I usually suggest to cut the backing piece in half down the centre fold, putting a pieced strip made up of scraps of contrast fabric down the length to make it up to size. Either way get 1.35m of Backing fabric.
INVISIBLE THREAD, Hearts: 1m FREEZER PAPER
Stars: 1m BONDAWEB £3-20 - see shopping carts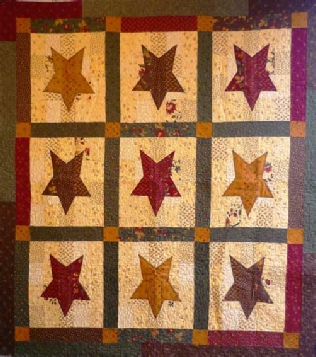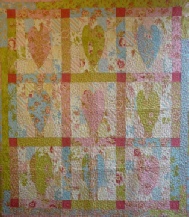 P8 Jellyroll Hearts & Stars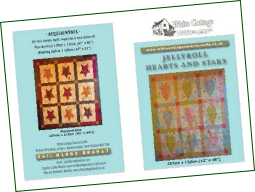 Note: Please use the PayPal option at the checkout.
The alternative direct card payment option
is currently not available.